The release of The JuliDrive was a thrilling one!! What's even crazier is that the release landed on my 30th birthday. 30 on 30 baebaaaaay! (That was planned haha. It was like a gift to myself in celebration of my 3 decades on planet earth.) 
I've done some heavy reflecting in the past couple of months, especially upon the completion of the album.
I've reached an insane milestone in human life!! 
For one, I've reached the age of 30 with phenomenal health & ambition, 4 degrees, a network I can call my growing family, a tenaciously growing career, no children, my own business entity, endless joy & humor, 2 brands, multiple sources of income, various creative outlets, fruitful lesson-teaching experiences (whether bad or good) and an immense number of planned goals & accomplishments waiting to become a reality. 
What does this mean, really? 
Well…for starters, this means I didn't waste time in my teens or 20s. I busted my ass, and look forward to busting my ass some more in my 30s. Trust me, throughout all of these feats, I've been and continue to be wrongfully judged & most definitely misunderstood, but the results always speak for themselves. 
The JuliDrive was created on the basis of expressing what pushes me forward. It was a play on the previous decade's concept of a mixtape as well, considering we now use USB Drives or Cloud Storage to share our musically inclined works of art. The physical JuliDrive is a USB that contains the metaphysical concepts that serve as a driving vessel towards my accomplishments.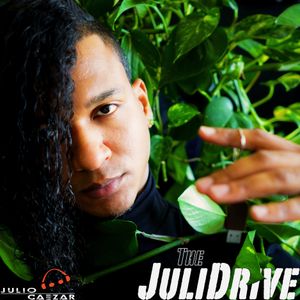 For example, Warning! is the first portion of a track that resembles the disruption behind the natural disaster known as an Earthquake (or TerreMotto). I always enter a new environment by providing warning as to how disruptive I may be. If you're willing to accept it, you'll be asking for more once you've experienced it. If not, you'll be subject to disliking my ability to project myself on the environment I'm disrupting. Most humans are afraid of something different, or change, to be more direct. Those that are open, embrace the change and adapt to the environment that is changing around them; those people persevere day in & day out with joy & happiness. Those that aren't, suffer from earth shattering vibrations resembling trials & tribulations.
Soy Don Julio is a self-identifying track that allows me to share who I am with the world, while also cheering to myself & the many accomplishments over the course of my life. Sometimes you have to pat yourself on the back because others won't. In today's day & era, people seek external validation; I rather seek it from myself. Do the same and you'll be happy as hell. 
Dark Web is a track that allows me to share what I've kept hidden about my day to day life. For so long, I've separated my intellectual & technical side from my savvy creative side. At 30, I finally decided to let the world know that I live in the world of the Dark Web and I also thrive on the surface. I cater to both the underground and the mainstream population; to the corporate and to the creative … because I consider myself a harbinger of connections. For that, some love me; for that, I am also despised. Too bad… 
Your Mom is a play on your mom jokes. I wanted to have fun with my humor, so I created a track that would cater to both a child and an adult. We all have Mothers & we see them from different perspectives as we grow older. As a child, we may have a crush on one of our friend's mom's, or we may simply joke on the possible interaction to tease our friends with some humor. As an adult, we may be involved with a female who's a mom. The moment where you either want to, or have to, express your love for that mother to her children is inevitable. It's a great concept to play with and you totally have to see the music video for this one. 
Vogue Bitch is by far the strongest song on the album. The track has some of the freshest sounds on the market, and it also boasts unison between all sexuality through the art of dance. Voguing has long been associated with women & same sex relationships. In reality, voguing is a form of dance where we get to express our vanity as beautiful human beings. Who's to say that a straight man can't join in on the fun without judgement. Let the world dance baby! Dancing brings us together. 
I bring in my 30s by sharing this project called The JuliDrive. I'm driven to connect the world, opposing all negativity gracefully. I'm driven to share the notion that there is still hope in humanity. I'm driven to be that symbol of hope through genuine love, intellect & laughter baebaaaaay! 
You can be an intellectual, and still be artistic. 
You can live in the underground, and still live in the mainstream. 
You can be a child and an adult at the same time. 
You can freely dance to anything you want to dance to. 
You can pat yourself on the back for your accomplishments. 
You can let the world know you're here to stay, no matter how different you are. 
May this project instill hope in my JuliPeeps. May this blog entry be shared to those that need a little hope. 
I am that hope … 
I'm Julio Caezar