Prepare yourself for a rather long assembly of thoughts, represented by a large amount of strategically formulated sentences. 
In life, there are three kinds of people in the learning community; those that prefer to learn from a teacher, those that can teach themselves, and a hybrid that takes advantage of both abilities. I like to think that I've learned, and continue to learn, as the latter. Being able to absorb knowledge from either of the first two is learning indeed, but combining the two makes an individual that much more efficient in the absorption & application of information. Before I bore you with these intricacies, let's dive into what I was able to absorb from my trip to Dominican Republic. 
The land itself, after 18 years of being a distant memory, was definitely, and will continue to be, a professor. 
...
Oh, and before I begin ... I'd like to thank my parents for being the two best tour guides a son could ask for. They made every effort to show me a piece of my history through the windows of their very lives. No matter how old you become, your parents will always be your first teachers. Value that with everything you can muster. Muchas gracias a mami y a papi!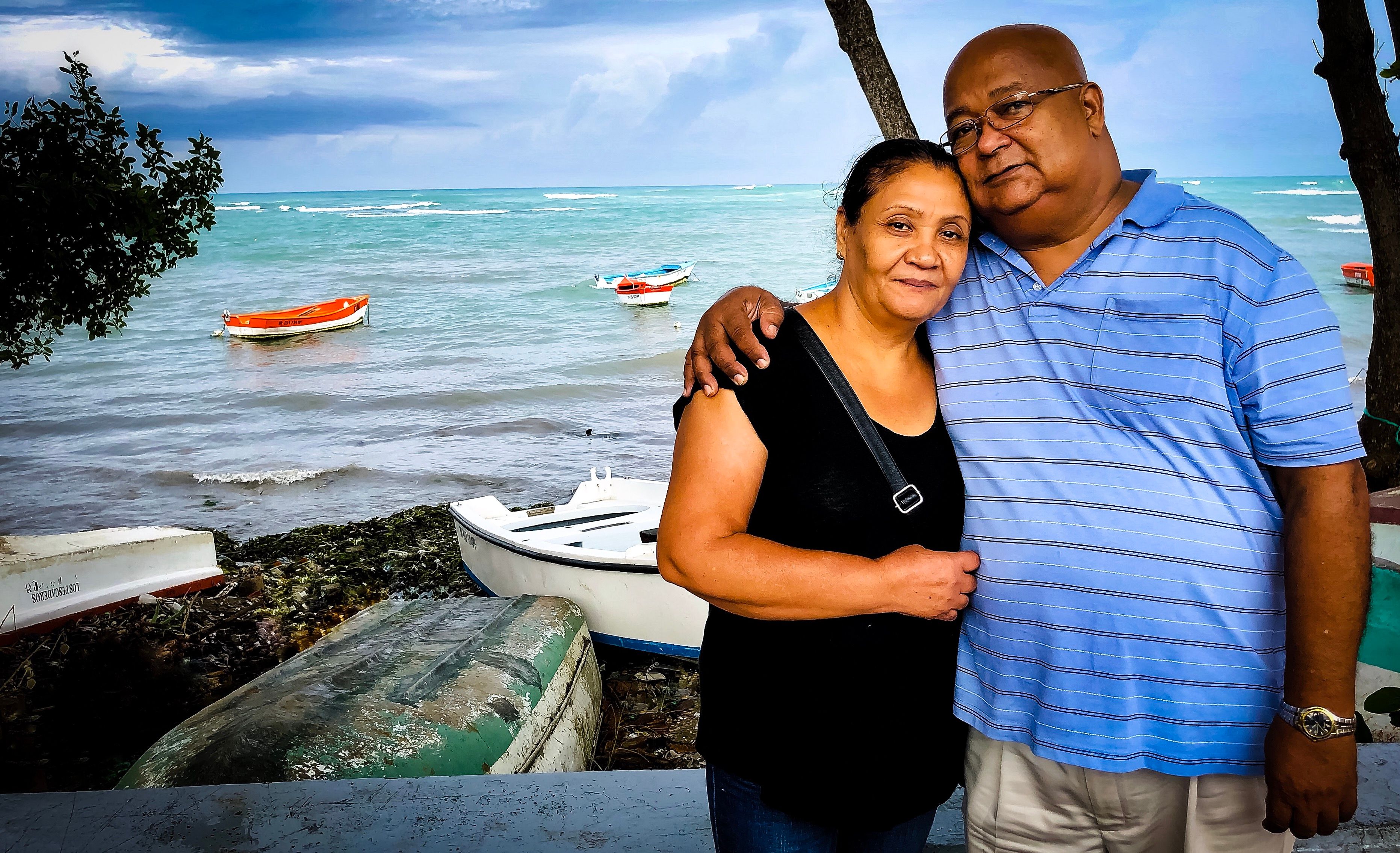 Upon Arrival 
Being that I wanted to spend time with my parents and learn from their perspectives, I decided to embark on a trip from New Jersey that would land me directly in the city of Santiago De Los Caballeros. Apparently, Santiago is the second recognized city in Dominican Republic, and is known as the Heart of the country. Ask me for more information about that, and I'll look at you with a blank face. 
The STI airport is fairly new, but pretty small; one runway kind of small! Did I know this. Of course not. Haha 
I was greeted by my parents and we made our way to their lovely little home in the "slight" suburbs of the city. I say slight, because it was a healthy neighborhood surrounded by the chaos of the city. 
Santiago De Los Caballeros 
Like any city, there are good parts, and then there are bad parts. In light of this, The Heart of Dominican Republic does contain some marvels that anyone who travels to DR should witness. 
I would consider The Monumental area of the city the best location to visit if you prefer the finer things in life.  The restaurants & ambiance are that of a more civilized kind, where visitors can experience a mixture of beautiful history, good music, gorgeous people and the art of "El Chapeo" ? 
This is what I learned: 
The hottest & most classy peeps will be present in this area 
If you're short, expect to use a ladder to communicate face to face with the women/men. 
If you see a young hottie with an old man, that is not her father. That is her Sugar Zaddy! bahahaaaaa ?? maybe ... 
The Monument was built on a plateau, although it seems as though it was built on a hill. The then people of the Dominican Republic shaped the land around the structure to augment the Monument's presence in the city of Santiago. 
Even though the city is one of the more civilized on the island, outside of touristic locations, you will still witness the areas for improvement right before your eyes. My father mentioned that the Dominican Republic would be much more ahead if the citizens would pay their taxes collectively. 
Puerto Plata 
The northern city of Puerto Plata contained a military fort, as well as the newer "Anfiteatro." That, my friends, is an immense theater by the Atlantic Ocean side of Dominican Republic, which can openly house about 1,000+ spectators.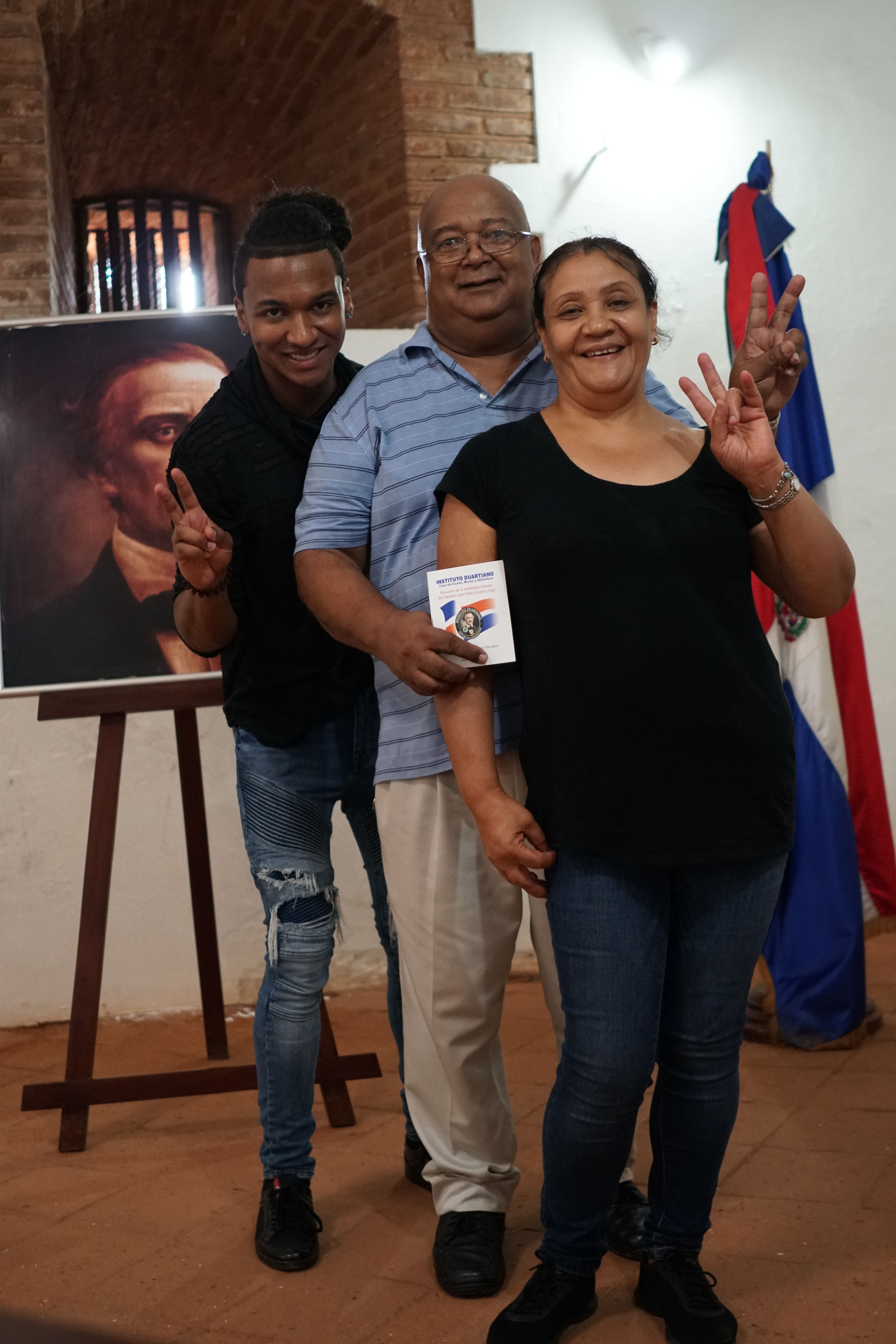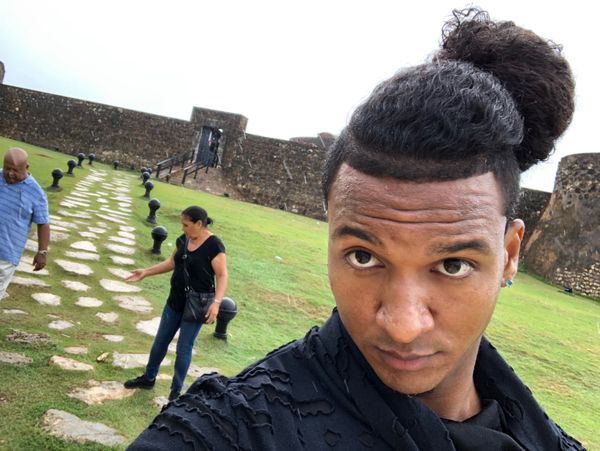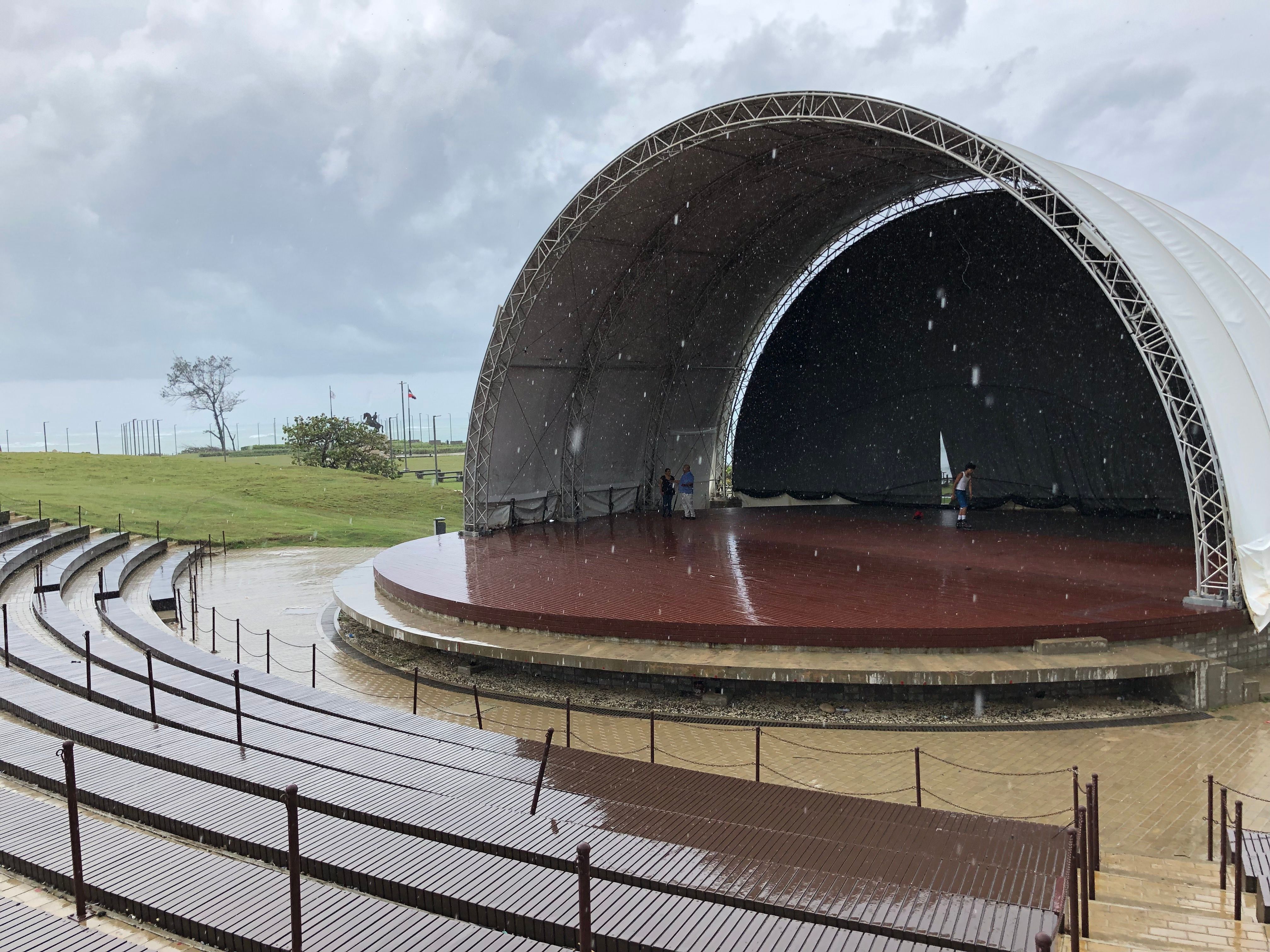 My visit there was short lived, considering the amount of rain that fell. The quality of the food by the Malecon of Puerto Plata was meh, compared to what they were exhibiting on their menus. Let me explain! The then luscious picture of a Smoked Salmon platter with rice & beans came out looking like a quick plate your Spanish speaking grandmother would make for you in the South Bronx, with two slabs of fish that looked identical to the chicken served in public schools, or at your local Subways bahahaaaaa ??. I still ate it though. I wasn't expecting the disappointment being that we were right next to the Atlantic.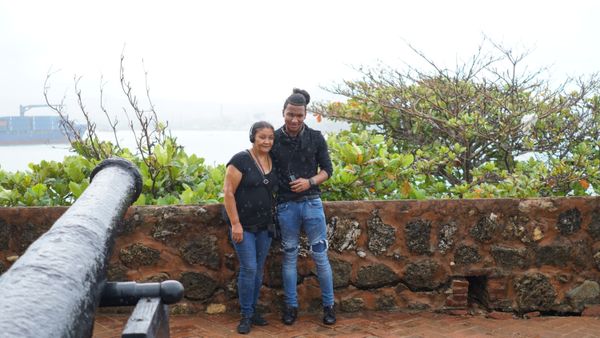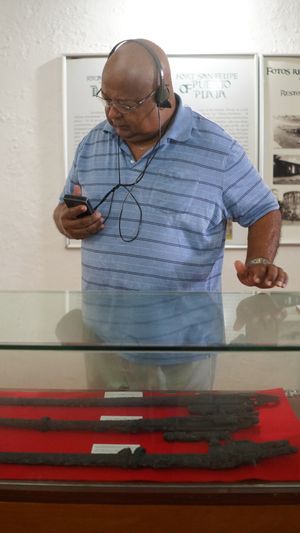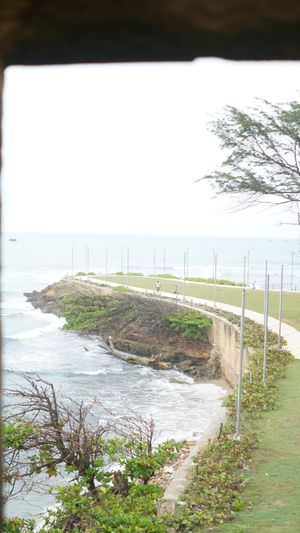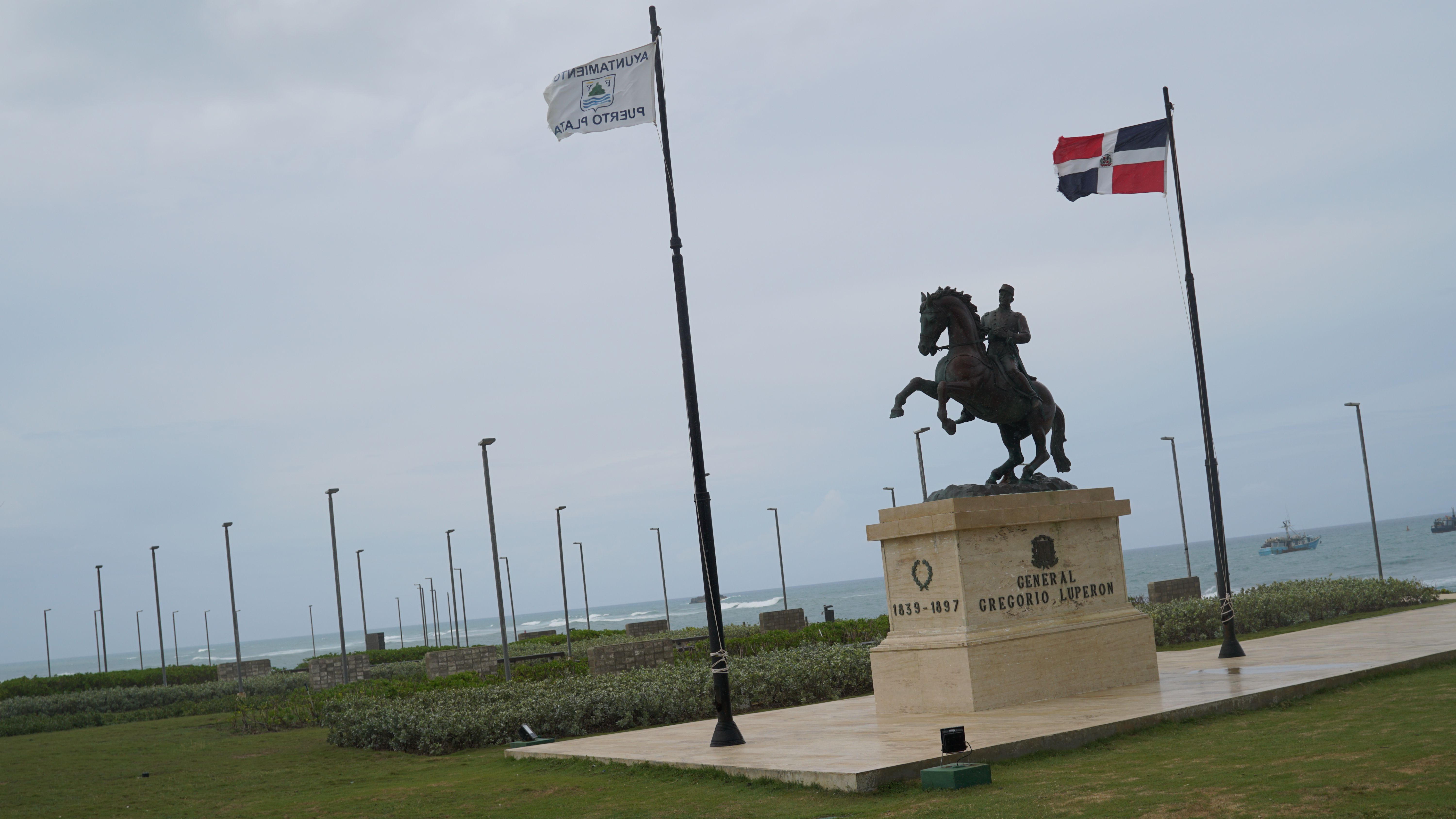 Puerto Plata is also one of Dominican Republic's tourist destinations, however, it is sub par when compared to Punta Cana, which is located to the far east corner of the country. Ah yes, you'll know you're over by Puerto Plata when you see giant Poseidon statue hanging out on a solo rock surrounded by Atlantic Ocean waves. 
My Mother's Humble Origins: Moca 
Moca is a very rural location in the Dominican Republic. Although Moca is a small city in of itself, my mother is from a very rural portion on the outskirts of what is considered civilization. The roads in this area are almost completely natural, being made of dirt and various forms of rock. When it rains, the ground becomes a playground for children that want to get dirty with mud. Check out this natural road: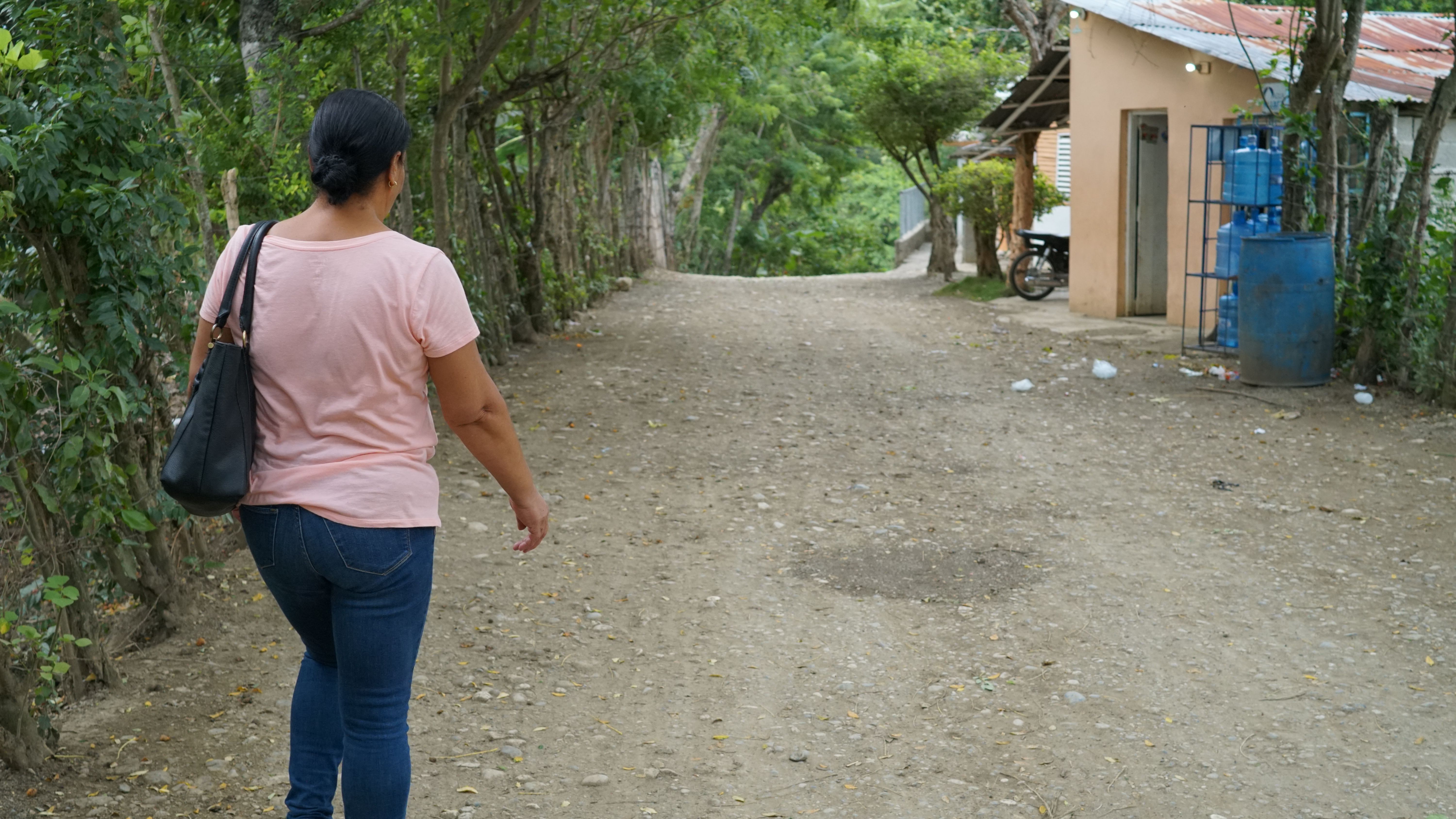 Recent developments have given birth to a paved road leading to my grandmother's humble abode, however, that road stops right before reaching the home. Surrounding the even more simple & humble are lush lands filled with nutrition and wilderness.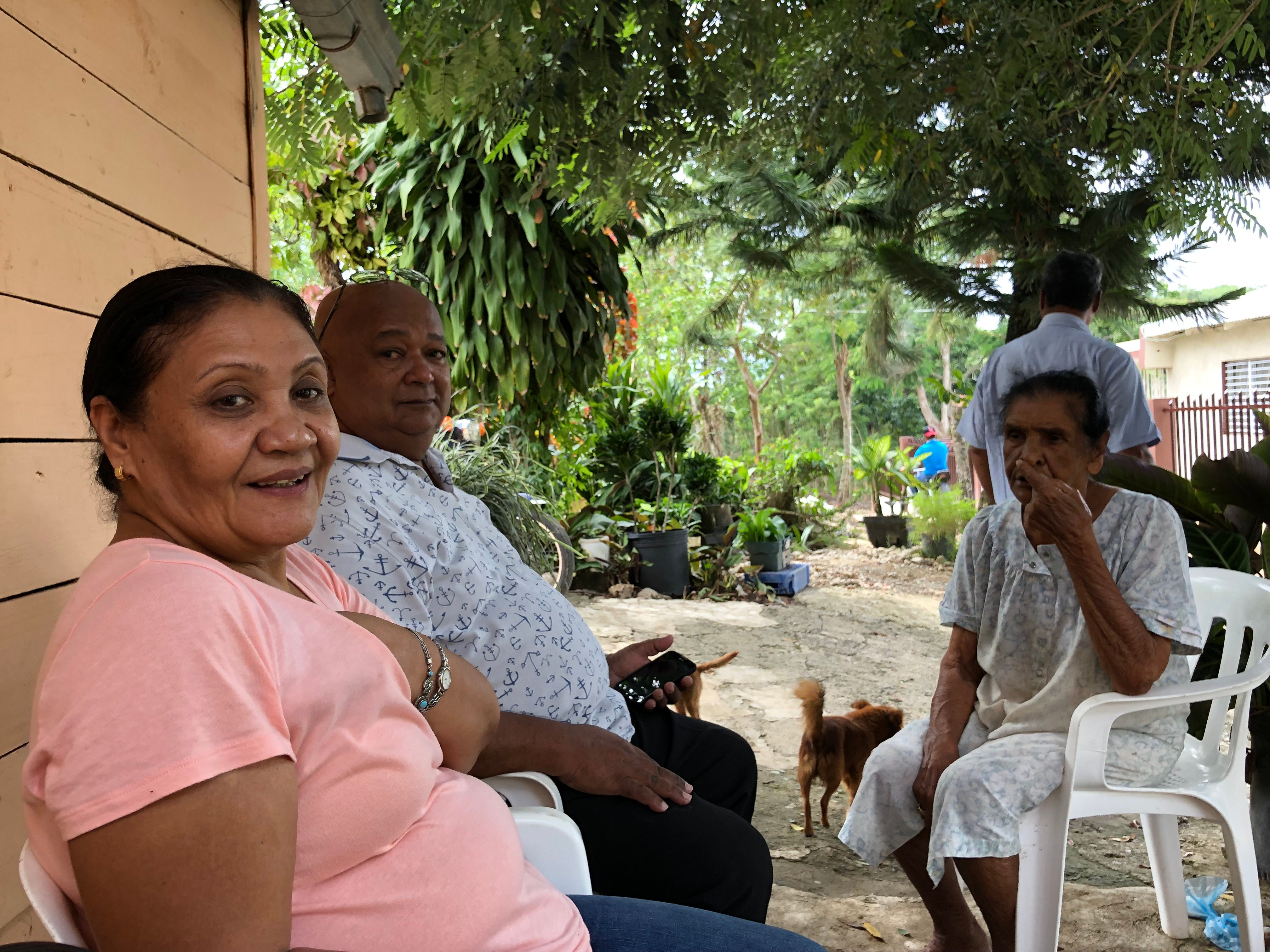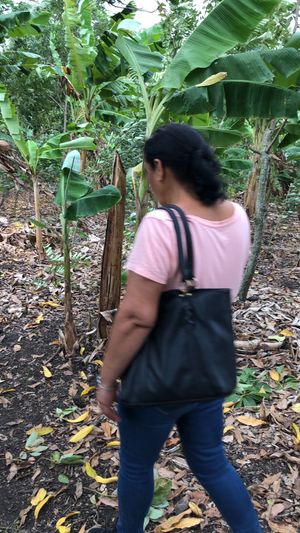 Above, you can see my mother walking on her land. She's pretty badass to make it to the US after coming from these humble beginnings. This is where I learned about my roots in agriculture. I always knew my Mother had land there, and that my grandmother owned a recently renovated home, but I had no idea how big the land was, nor did I know the amount of food produced by it for the surrounding populous. Moca is where I experienced most of my personal nostalgia, considering my two visits as a child resulted in life lasting memories & relationships. I was the first born in the United States after all. Majority of my family is out in Dominican Republic.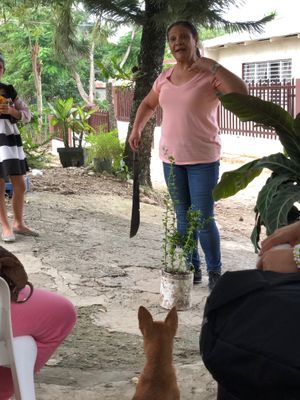 One of my most memorable moments was seeing my distant family after 18 years, as a fully grown male. Catching up and spending quality time with my youth's companionship was priceless. 
What I once remembered obviously changed a bit over the course of 18 years, but if you attempt to measure the development of the area to that of a First World country ... you'd be heavily disappointed. Moca will become something greater in about a century, in my opinion. We'll have to see the progress then. 
Here's a quick game: Can you guess which one of these lovely ladies is my mommy ?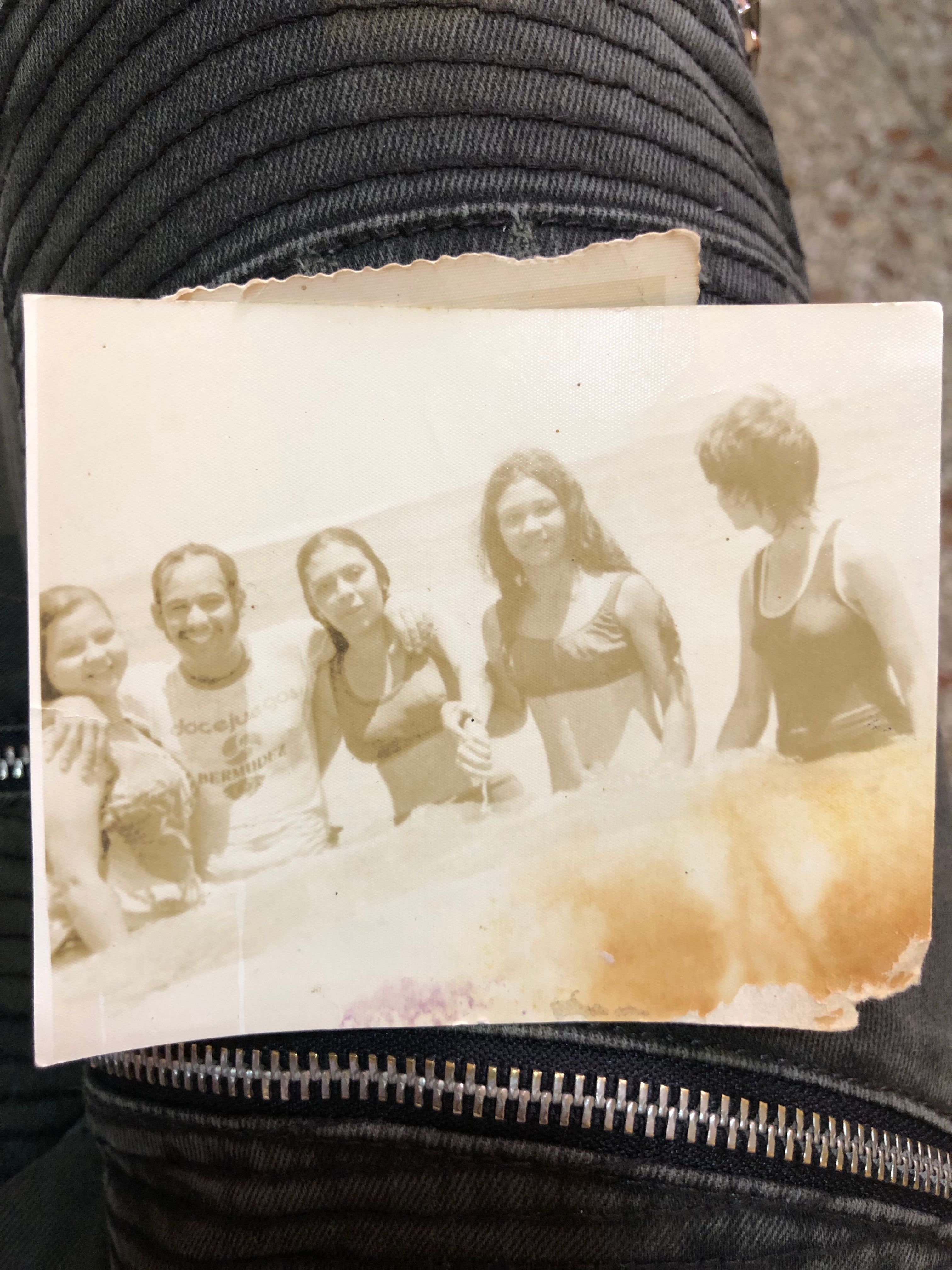 My Father's City & Military Origins: Santo Domingo 
Santo Domingo is located on the most Southern portion of the island, where the Caribbean ocean can either be docile or violent AF.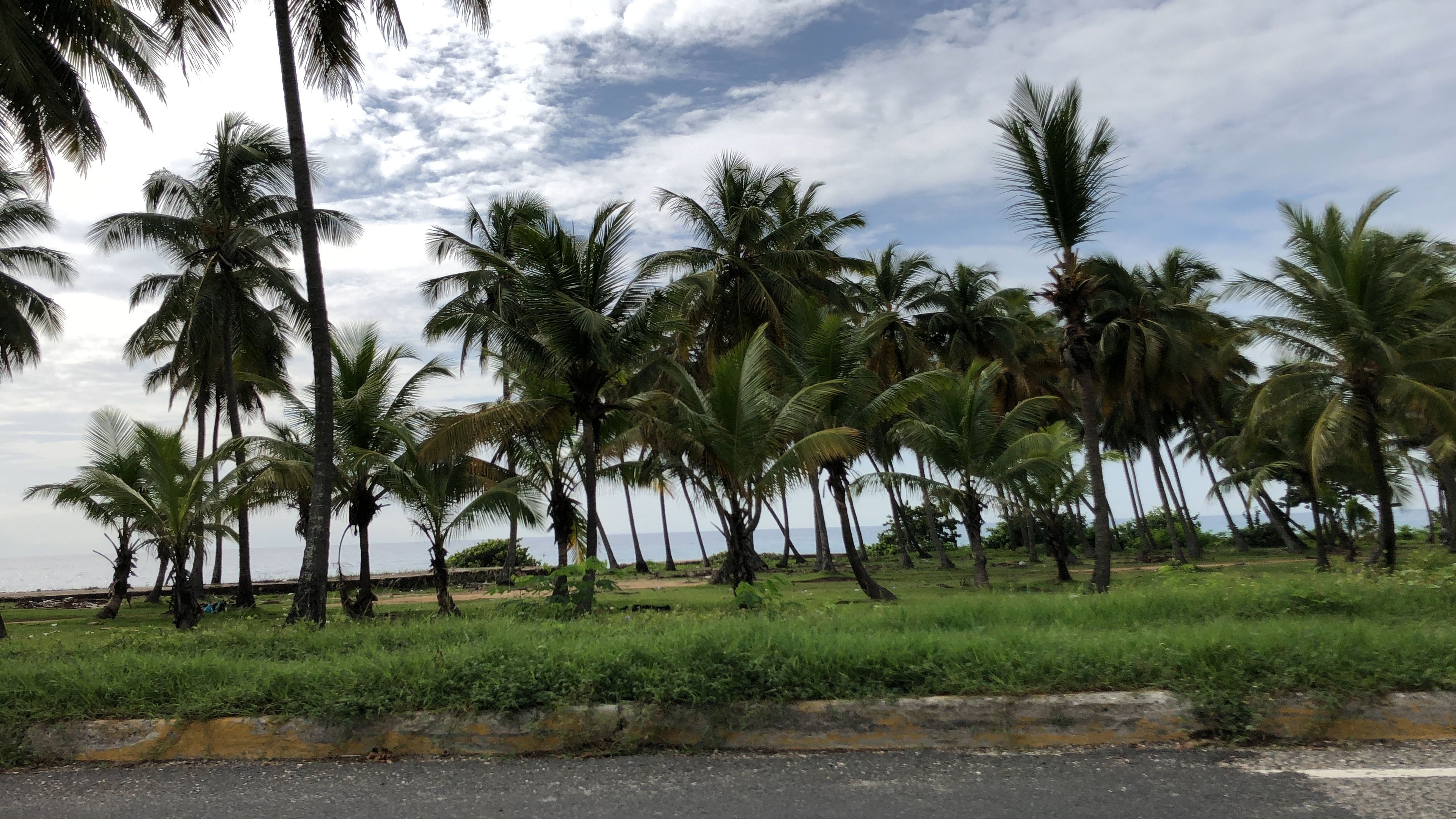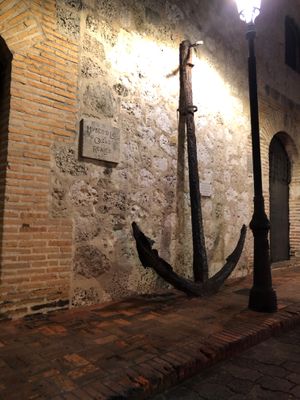 La Zona Colonial is also in this city, where you'll find some of the coolest, historical & architectural designs created by the early migrators from Spain. Hearing the nostalgic dialogue between my father and his cousin as we drove through the southern Malecon definitely struck home. My father had spent a great amount of time away from his childhood home as well. Witnessing his emotions flutter was rather mesmerizing, as I could sympathetically understand the feeling of returning to a place you once called home.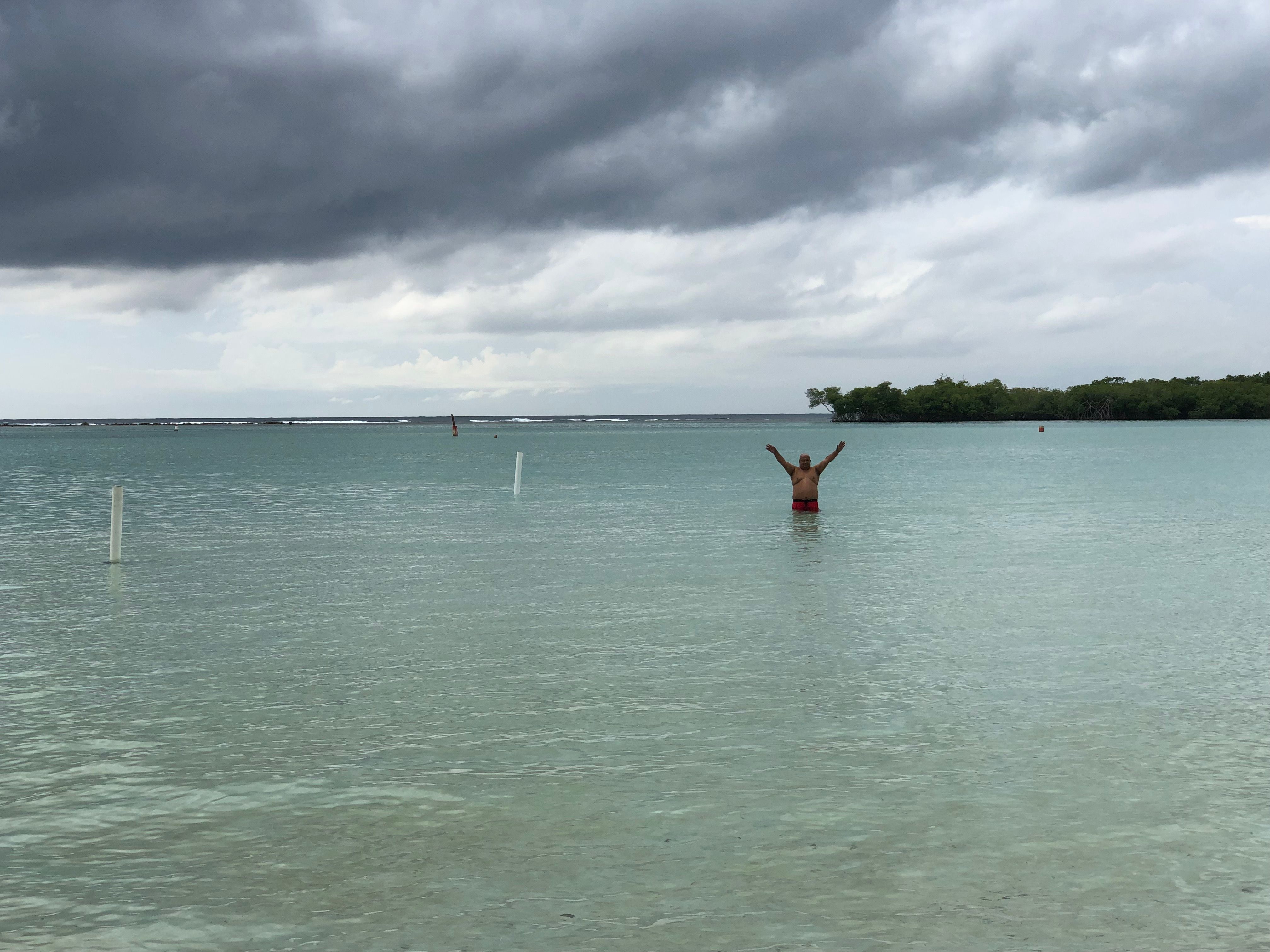 True nostalgia feels like an explosion that proceeds with the awakening of memories which were once suppressed by the constructs of time. In short, nostalgia is orgasmic to the mind, as if bolts of electricity span up in the quietest of crevasses within your brain.  Santo Domingo, his origins, after years of not being present ... did that for him ... and in turn ... me as well! I was living as a citizen of the Dominican Republic vicariously through the eyes of someone who was beyond double my age.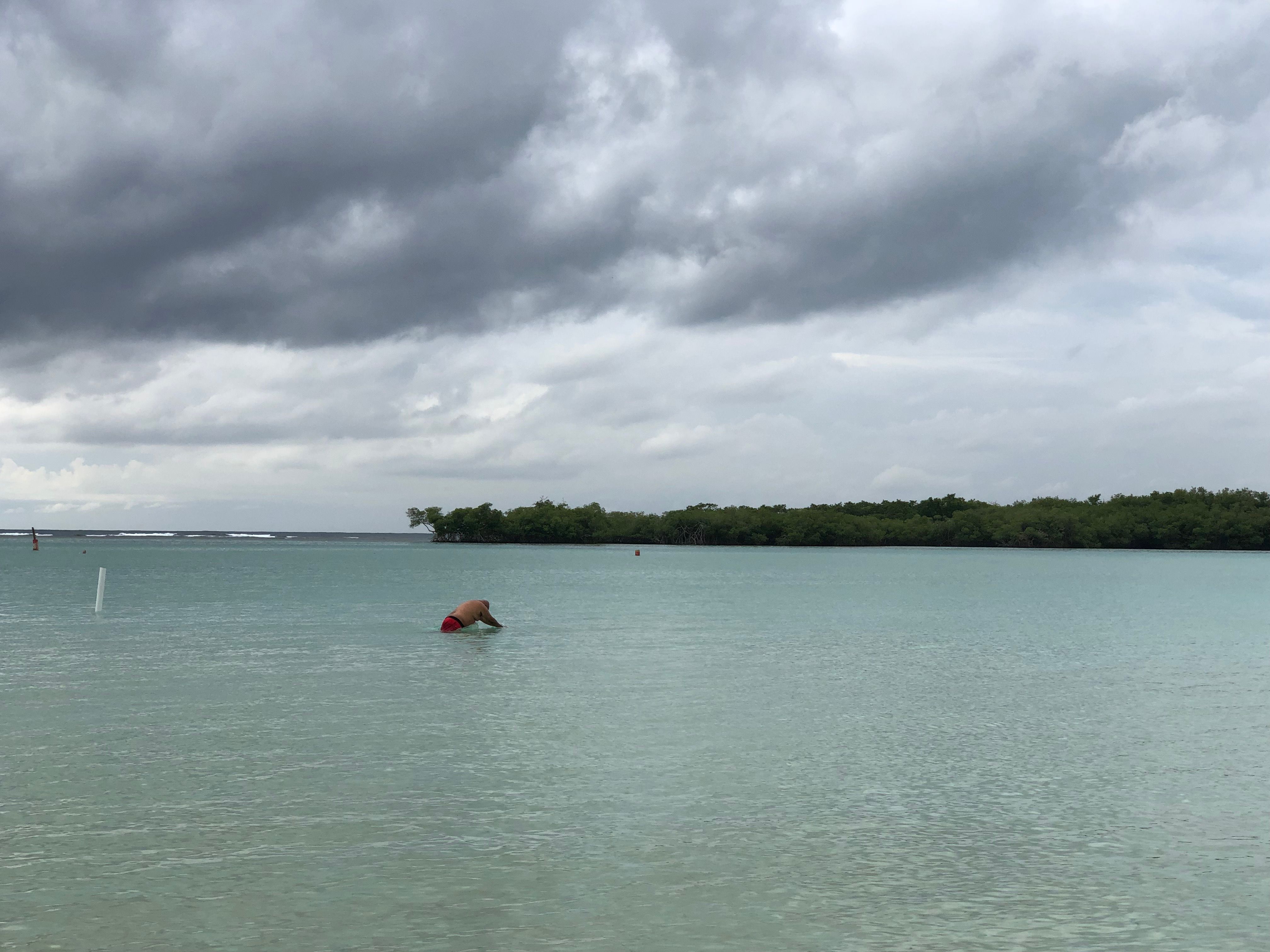 Mindblowwwwwn! 
My father's entire life took place in Santo Domingo, where his father was a crucial piece of the Dominican military. You can say that his father wasn't always present either. I then understand a piece of history that helped me further understand my own upbringing.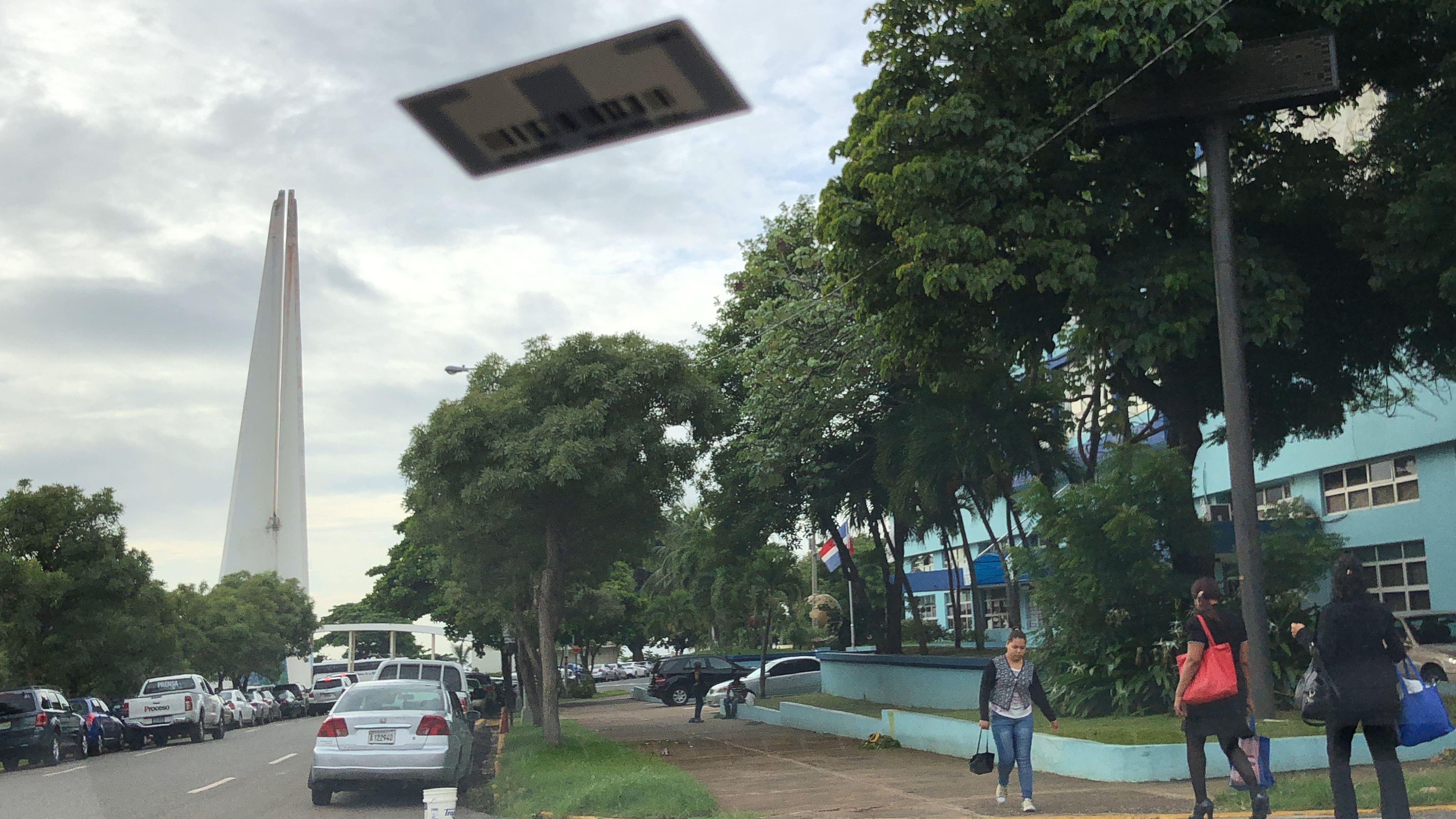 The city is more populated than others, as well as more civilized. Majority of motorist use helmets, unlike everywhere else on the island, which would mean that some laws are not only being respected, but also enforced. For example, rush hour in the city is worse than New York due to the lack of law enforcement. You can easily spot over stuffed vehicles that lack fully functioning head & tail lights. Not to mention, drivers aren't the most civilized either. You'll experience a huge amount of road rage if not patient, which can result in your possible death. Bahahaaaaa ?? Try arguing with someone that cut you off and you'll possibly meet your maker. On the contrary, more civilized locations in the Dominican Republic contain law abiding citizens, so it isn't all terrible. Just don't play chicken with the people of the Dominican Republic. If they don't win, you'll both lose. There's my warning! 
The More Affluent:  La Romana 
Once we were done exploring the city of Santo Domingo, we had a scheduled meet up with my cousin, who's part of my father's side of the family, over in La Romana. I knew that my father's side of the family was heavily involved in the military, but little did I know about the current generation's involvement. My cousin, Guillermo, is a General who's, also an oculist, who's also running for office. 
Take a second! I just threw a number of things at you. Upon learning this, I reflected and pondered, and then reflected some more. The guy's work ethic and lifestyle are very similar to my own. I've always kept myself busy with various professions, occupying my time with opportunities to grow as a community leader, as an individual, and overall ... a more than capable "mountain" for a family man. 
Outside of my "sushi and avacados" diet joke from one of my shameless Instagram posts, my genetic build up is that of a military & agricultural background. I look at my body and it makes sense. Some may see that as vein, while others will use this information to augment their thought process about the vessels their souls walk around in. I found it astonishing being able to learn more about my past. 
When I'm ready to invest in a home in Dominican Republic, La Romana is somewhere I'd highly consider. Maybe Casa De Campos or even Punta Cana. The Eastern portion of Dominican Republic is ahead of majority of its cities in regards to development. It's like the Westchester of Dominican Republic...sort of. Take my opinion with a grain of salt. 
Tourism and Its Effects on Developing Countries 
I won't say much about this but I thought it would be interesting to add a quick spiel about tourism. Tourism in a third world country truly drives its economy forward. Those locations where tourism has taken place have sped ahead of the rest when considering development. Roads, as well as the quality of life, in these touristic areas are much more advanced than anywhere else on the country. Money is being pumped in and the government is using it to create a better experience for those that visit the country. This does, however, negatively affect the average Dominican, but we'll get into that a little later. 
About Me 
Well … I'm few in between! I'm a bloody Dominican my JuliSquad! 
Many of you may see me for the first time today and would have never thought that I came from such humble beginnings. I'm the son of two immigrant parents from the Dominican Republic. My mother's agricultural background and my father's strategic military background are my make up. I understand the likes of being a humble lover & a vicious fighter. I live the life of a dreamer and an executor.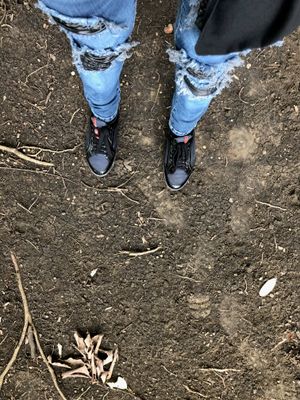 Understand, that my make up is only part of my progress as a human individual. I am where I am today because I believe that everything is possible. Growing up, I chose to learn from the world around me, applying what I saw fit for my ongoing, future success. Even today, I openly seek knowledge and think about what I can do to set myself up for a brighter & secure future. Not to mention, there are plenty of moments where I'm wrongfully judged in the process. I'm judged for exuding happiness, for dreaming huge, for working so much, and even for expressing what I feel should be expressed. Haha. I'm not normal to the average human being. 
I'll leave you with this thought; if I ever payed attention to those judgements, I would not be where I am today, nor will I be where I want to be tomorrow. For one, I wouldn't be who I am ... 
Hey... 
We are the creators of our own destiny and I hope that I'm a good example for those making their daily attempts to become better versions of themselves. Sadly, those that don't read my writing will continue to wrongfully judge because they don't know any better haha. I'm built for this though! 
Like my mother, I've been a fighter for what I believe in. Like my father, I've considered all strategies that would lead to progress & success. Like a true Dominican, I share the simplest of joys with a warm hello & and a genuine smile no matter the situation. I've faced all adversity in the same light, with the most positive of energies. Allow me to express that it hasn't been easy at all ... in no way, shape or form. Even so, anything is possible, and that's all that matters!
If there's anything you should attain from this piece of self-literature about me ... 
...know that I come from humble beginnings. My work ethic & desire to spread joy have helped throttle my success. My resilience and perseverance shield me from the crappy stuff life throws at us. My goal is to share my joy & knowledge with the world in the ways that I know best ...   
I ... I'm Julio Caezar ... a symbol of Love & Magic!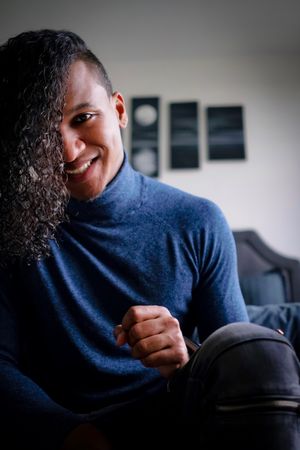 I'll end it there my JuliPeep! Look at my mom as a jawn ... Love ya!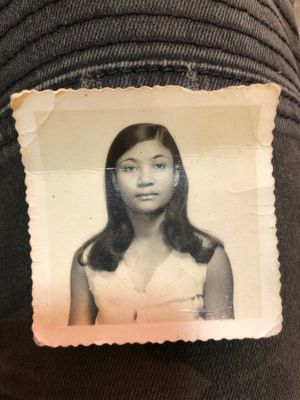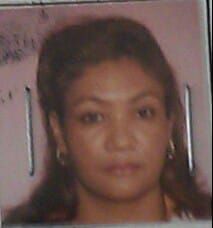 - Julio Caezar
Spread Love! Spread Magic!